Relocation
When purchasing or renting a home there are always required resources that need to be consulted with and arrangements that need to be made to make the process easier. My Move Concierge was built to help.
Read More
Illustrating how convenient Greenwich is to New York, Stamford, CT as well as airports, major roadways and the New England region is our Greenwich-Region Map. With a closer look at the immediate area and the locations of all of the Fairfield County communities as they relate to Greenwich is our Greenwich-Fairfield County Map.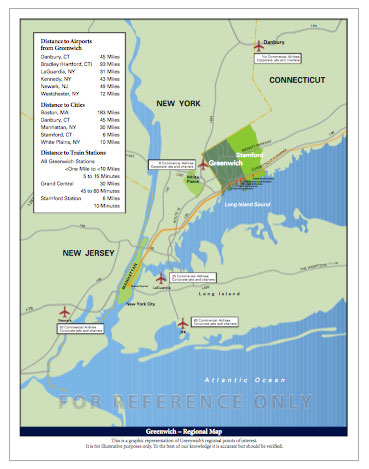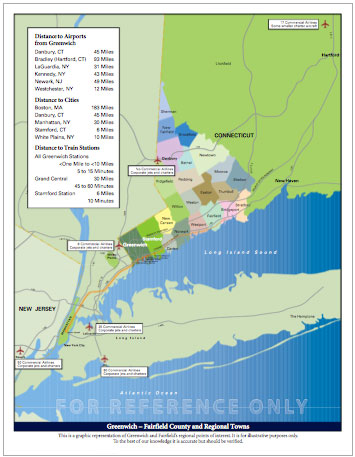 Read More
National, regional and global business entities have long been part of the Greenwich business landscape. Before deciding whether Greenwich is the place to be for your business some factors are usually analyzed. Such typical things are presented below:
Greenwich's Business Environment

Greenwich offers a substantial large mercantile and moderate corporate business environment set within a stylish ambiance, low crime location and an address identified with success and prestige. Of its corporate residents most are in the financial services arena, with a predominance of Hedge funds. Business runs on New England practicality and global ingenuity with the drive and pulse of New York.

Its proximity not only to New York but to the neighboring Connecticut community of Stamford to the east where the population of nearly 120,000 is twice the size of Greenwich--adds to Greenwich's inducement as a labor source and marketing arena. In terms of resources, marketing demographics, access to global transportation and many other considerations, Greenwich is nonpareil in Connecticut and maybe anywhere in the U.S.

The foundation of Greenwich, Connecticut's work environment is its workforce, considered one of the best educated in the U.S. and ranked at a productivity level more than 30% higher than the national average. At the base of the New England commercial corridor and Greenwich's strategic position on the New York border offer proven competitive advantages and ready access to markets, financial centers and institutions of higher learning in addition to suppliers and business partners.

The number of employed people in Greenwich represents more than half of the population of 61,000. More than half of this working population is classified in predominant areas of finance, insurance, real estate, the sciences, education, health and social services. In general about a third of the employed live in Greenwich, while the rest mainly commute from Stamford, Norwalk and nearby Rye, NY. From Greenwich, just over 5,000 commute to Manhattan and another 3,500 to Stamford.
Greenwich and Regional Office Space

Greenwich's total commercial office inventory totals slightly more than 4 million square feet located in various sized buildings. The rental rate in Greenwich, which is among the highest in the state, runs on average from $25.00 PSF to $80.00 PSF, gross to triple net.
Greenwich Retail Space

Greenwich
The main retail activity in Greenwich is concentrated on Greenwich Avenue, Putnam Avenue or the Post Road, spilling into the Lewis and Havemeyer side street. Open space is quickly gobbled up by vendors who want the exclusive address and the large volume and the large volume of shopping traffic that pervades the area. Rents run from an absolute bottom of $60 a square foot to as much as $120 a square foot. The outlying neighborhoods Cos Cob, Riverside and Old Greenwich offer retail shopping locations of their own with little or no turnover in tenants. Rents here typically lower.
Search for Space

If you have a need for prime headquarters space, general office space, retail space, or investment real estate Edward Mortimer will work with his commercial real estate affiliates to satisfy your business space requirements. If you are interested in locating the best possible office or retail space or want to purchase a commercial property, please contact Edward Mortimer at 203.496.4571 or fill-out the email search request below. Our same privacy policy applies. (see privacy policy).

Read More
Relocating to Greenwich, Connecticut presents a whole host of considerations. Among such considerations are the cost and type of available housing, access to local transportation and commuting, access to educational facilities, employment opportunities, taxation, recreational and cultural amenities, access to healthcare, quality of life and more. As you consider where to move, Edward Mortimer can help you work through these relocation considerations to help you make the right decisions for you.

While you consider where you might want to live in the area, temporary housing is available. Furnished apartment settings are available in the area as are furnished rentals and general lodging (hotels and inns).

Temporary Housing
Temporary corporate housing is available only on a highly restricted basis in Greenwich. Over the course of a year, a dozen or so furnished short-term rentals might open up. But interim housing abounds elsewhere across Fairfield County within reasonable distance from Greenwich in the communities of Stamford, Darien, New Canaan, Norwalk, Wilton and Danbury. Other comparable facilities are available across the New York border in White Plains.

The accommodations run from furnished apartments offering studios to one bedroom, two bedrooms and three bedrooms to private housing, hotels and inns designed for extended-stay business travelers. Generally the leases are flexible. In some instances, there is a 30-day minimum occupancy. Cost is contingent on the size of the space, the furnishings and the amenities.

Rentals can come with complete washer-dryer and appliances, house wares, linens, indoor parking, gyms or health clubs, business centers with Internet access and fax and copying equipment, pools, color TV with cable connections and fully-equipped kitchens to prepare home-cooked meals. In addition some offer maid, concierge and doorman services, dry cleaning pickup and delivery, game rooms with billiard tables and, in many cases, they are pet-friendly and a short distance to the New Haven rail commuter line linked to New York's Grand Central Station.

Other than corporate housing the following are a list of lodging options in the area:

Hotels-Inns In Greenwich

Cos Cob Inn
50 River Road
Cos Cob, CT 06807
203.661.5845

Delamar
500 Steamboat Road
Greenwich, CT 06830
203.661.9800 


Harbor House Inn
165 Shore Road
Old Greenwich, CT
203.637.0145

Homestead Inn
420 Field Point Road
Greenwich, CT 06830
203.869.7500

Howard Johnson
114 East Putnam Avenue
Riverside, CT 06878
203.637.3691

Hyatt Regency
1800 East Putnam Avenue
Old Greenwich, CT 06870
203.637.1234

Stanton House Inn
76 North Maple Avenue
Greenwich, CT 06830
203.869.2110
Read More
Located within one-hour from Manhattan, fifteen minutes from White Plains and ten minutes or less from Stamford, Connecticut. Greenwich, Connecticut, is Southwestern, Connecticut's Western-most territory. Here, like much of this territory, transportation, available workforce and employment opportunities are readily available as are quality places to live. Available business space, office and retail, present convenient locations for all sorts of business types and consumers with a particularly good access to the regions major business centers in New York, Westchester and the corporate hub of Stamford, Connecticut. Greenwich presents a town atmosphere despite its large 60,000 population. Contact Edward Mortimer if you have other questions about relocating to the Greenwich CT area.
Read More